At La Lune Collection we're proud of our hardworking team of artists, craftsmen, and sales professionals – it's thanks to their dedication and skill that we're able to create the most beautiful rustic furniture available anywhere.
However, as the old proverb goes, "all work and no play make Jack a dull boy" – so, we also know how to have good time at La Lune!  Several times a year we throw our factory doors open and produce some fantastic events to benefit local nonprofit organizations. Recently, on Friday, June 12th, La Lune Collection threw an exuberant party – called Pasta & Puccini – for Milwaukee's Grammy award-winning Florentine Opera Company. The event took place in La Lune's charming factory, a collection of beautiful cream-city brick buildings built over 100 years ago that we have carefully and lovingly restored. Delicious rustic Italian fare by Chef Scott Shully and his staff's gracious service, radiant guests, dazzling performances by the Florentine Opera artists, and an incomparable sing-along, made this an evening not soon to be forgotten – truly a 'notte fantastica'.
The event photos are in, and we're delighted to share below some images from this amazing evening.  There's no doubt about it – "that's amore"!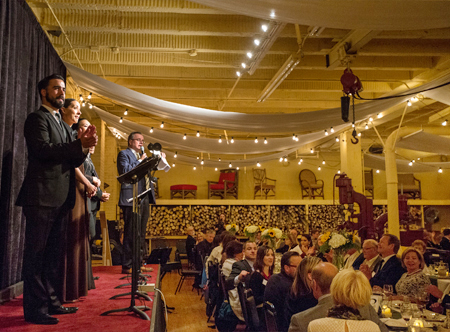 With stacks of wood logs, antique machinery, and seating prototypes as a backdrop, La Lune Collection's frame department serves as a unique venue for around 160 Pasta & Puccini guests.
Chef Shully supervises the staging of colorful – and scrumptious – salads before their presentation to guests.
It's impossible to NOT have a good time at Pasta & Puccini, as evidenced by these joyous partiers!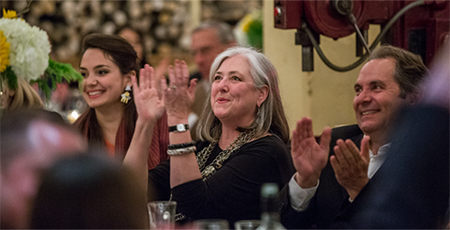 La Lune Collection co-founders, Cathy and Mario Costantini – and their daughter, Cristina –  are caught in a moment of delighted appreciation.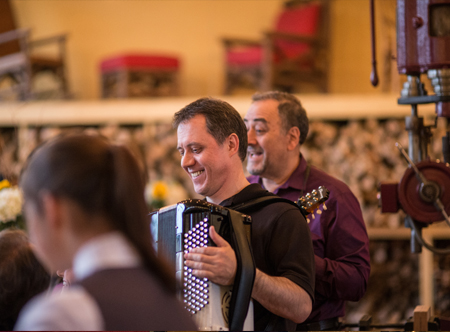 Strolling musicians Stas (accordion) and Mischa (mandolin) serenade seated party attendees.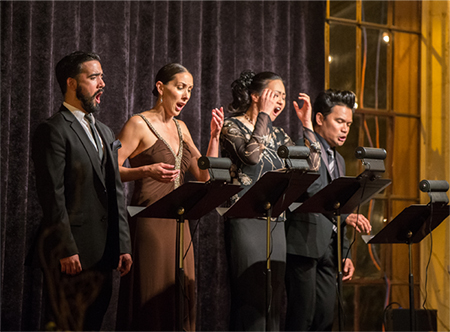 Talented Florentine Opera singers, expressing various emotions during their "Nessun Dorma", demonstrate why Puccini was considered the leading figure in Italian opera of the late 19th and early 20th centuries.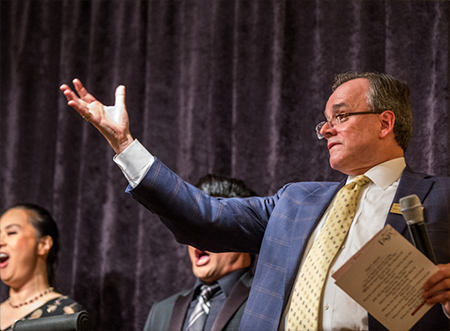 Maestro, and Florentine Opera Executive Director William Florescu, leads Pasta & Puccini guests in a rousing chorus of "That's Amore!"
Singing guests brought down the house with their exuberant rendition of "Funiculì, Funiculà" – everyone's an opera star at Pasta & Puccini!