Bunk beds have long been "hot items" at La Lune Collection, and in recent years some pretty amazing bunk room installations – created by our wonderful interior design and architect clients and featuring La Lune Collection Bunk Beds – have been popping up everywhere. And it's really no wonder – the benefits of bunk rooms are numerous.  Families look to bunk beds to optimize space and add storage, and, they're not just for kids anymore. Visiting adult children, men on a "guys' weekend", extended family guests – and more – all make bunk rooms a welcome staple in vacation and second homes. 
To demonstrate our point we've gathered together a group of our favorite bunk rooms by some of our favorite interior designers, several of which grace the covers of magazines!
Heather Chadduck Interiors – Birmingham, AL
Two beautiful La Lune Collection Bunk Beds #4258, finished in Antique White on poplar bark, add to the light and airy feeling of this Arkansas bunk room, featured recently in At Home Arkansas Magazine.
Laurie Waterhouse Interiors – Jackson, WY
Boldly patterned red-and-white checked coverlets reinforce the strong rustic appeal of this bunk room in Wyoming. Three Bunk Beds #4254 – all with twin-over-full accommodations – offer plenty of room for lucky guests!
Maine Home & Design Magazine
A relaxed private ski lodge in Newry, Maine includes La Lune Collection Bunk Bed #4254 in Natural finish on poplar bark for the family's fortunate children – the perfect respite after a full day of skiing.
Elizabeth Basso Interior Design – Eagle, CO
This mountain retreat in Vail, Colorado features a cozy bunk room with a patriotic flavor. Two La Lune Collection Bunk Beds #4522  make it a welcoming haven for all visitors.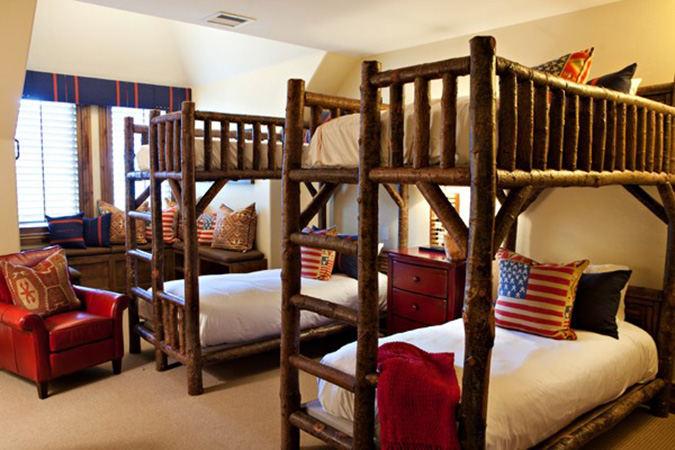 Weiss & Wirth Interior Design – Aspen, CO
The clever designers at Weiss & Wirth worked closely with La Lune Collection to create this amazing custom bunk bed for a bunk room at the "ultimate mountain hideaway" in Snowmass Village, CO. This bed features built-in shelves to display childhood treasures and drawers below for ample extra storage.
Barbara Baker, One Room at a Time – Whitefish, MT
Barbara Baker of One Room at Time designed this delightful Iron House Cabin bunk room – La Lune Collection Bunk Beds #4626, complete with convenient drawers below, carry through on the room's playful cowboy theme.
Traditional Home Magazine
Renowned Los Angeles interior designer Trip Haensch designed this colorful bunk room for a vacation getaway in Park City, Utah – two La Lune Collection Bunk Beds #4258, along with the vibrancy of wall and fabric hues, lend this bunk room its pure sense of joy!
Home Interiors by Cortney McDougal – Aspen, CO
Serenity was the order of the day for the interior designer's inspired coverlet, pillow, and wall color choices in this Colorado bunk room – and two La Lune Collection Bunk Beds #4254 in Natural finish complete the tranquil feeling of the space.
Ginger Barber Interior Design – Houston, TX
This bunk room in a Fredericksburg, Texas ranch is rustic charm at its absolute finest. A subtle Whitewash wood finish on the two Bunk Beds #4258 complement the room's vintage rug and furnishings, perfecting a rustically unique vacation get-away.