At La Lune Collection we're delighted to have created a space in the 2015 Wisconsin Breast Cancer Showhouse, which opened to the public this month and marks the fifth straight year in a row of La Lune's participation in this important project.
The WBCS group of dedicated volunteers presented its first showhouse in 1998 to raise funds for cancer research at the Medical College of Wisconsin.  Since then, these annual "showhouses for a cure"  have raised more than $5.45 million for cancer research, and have also endowed the institution's recently established WBCS Professor of Breast Cancer Research. The promising breast cancer and prostate cancer research made possible by this initiative has led to more than $43.7 million in additional competitive extramural research grants to Medical College of Wisconsin by the National Institute of Health and other foundations. La Lune Collection couldn't be more proud to be a part of this extraordinary and worthy endeavor!
This year's showhouse, located on the east side of Milwaukee, is a dramatic Tuscan style home overlooking the shores of Lake Michigan. To create the home's "outdoor living room", La Lune Collection's co-owners and showhouse space designers, Cathy and Mario Costantini,  utilized standard items from the line crafted with indoor/outdoor fabric, spindle decks, and done in a Kahlua peeled-bark finish, making the pieces perfect for use completely outdoors. Take a look at the photos we've shared below of La Lune's finished outdoor room – we think it turned out beautifully!
Lush gardens serve as a perfect spot for breakfast with the family or friends. (Pictured: Dining Table #3520 and Arm Chairs #1295 in Kahlua finish)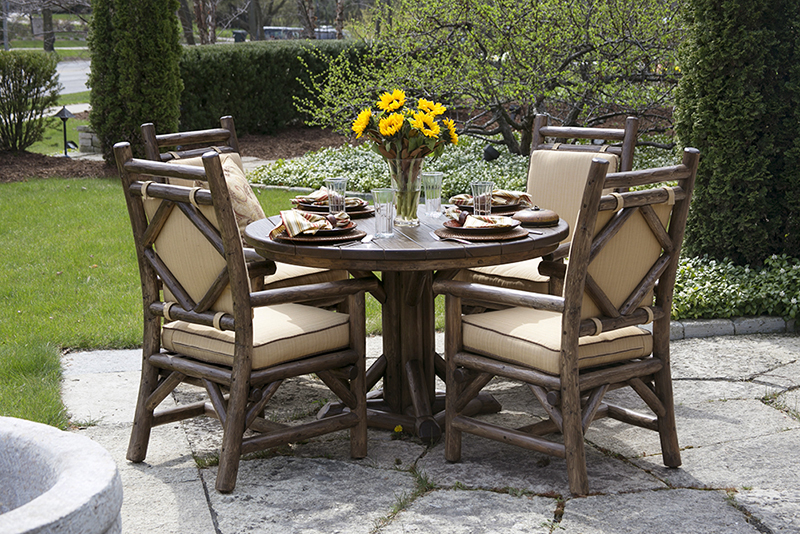 A longer view of the elegant grounds reveals the home's natural lannon stone fire pit; surrounded by stylishly comfortable club chairs and sofa, it's certain to be the site of many pleasant evenings, spent sharing refreshments and stories. (Pictured: Sofa #1170, Club Chairs #1175, Side Table #3450 in Kahlua finish)