Everyone knows that a well-dressed dining room will feature as its centerpiece a dining table and chairs, as this is precisely where family and friends will gather to share meals and conversation. However, let's not forget another important dining room furniture piece – a necessity for serving said delicious fare to its eager recipients – which is alternately referred to as a "sideboard", "buffet", "credenza", or "server", depending on what part of the country one calls home. In our beloved Wisconsin, one most often hears reference to "buffet", so this is the term we will use for the remainder of this discussion.
The earliest versions of today's buffet originated in England, making their appearance in the 18th century, but quickly gaining popularity during the 19th century as households became more prosperous. Sweden is credited with using buffets to lay out large displays of food and drink – known as smorgasbords – and the concept of buffet tables soon spread to France and ultimately to the rest of Europe and the Americas.
Today, the buffet is an important dining room accessory, adding style to function.  At La Lune Collection we're proud of our own collection of beautiful buffets, offered in a variety of sizes, designs, and finishes, and from which we've curated here a small sampling  – presenting La Lune's "service with a style"!
This finely crafted buffet features a striking background of White Birch, accented with contrasting willow trim in a Natural finish on bark.

A dramatic Ebony finish sets off this buffet – our expert craftsmen have tended to every detail in its construction, carefully cutting and applying by hand the branches that make up its precise geometric designs.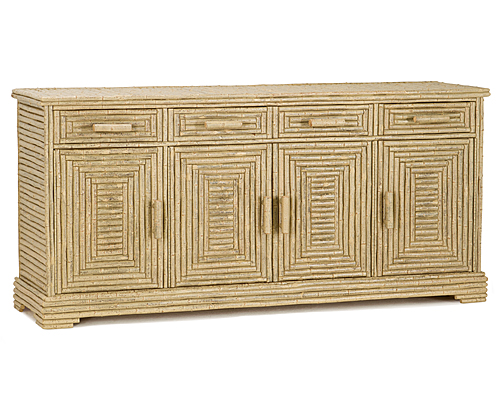 Featuring a geometric pattern configured of poplar branches in a Desert finish, this buffet affords a beautiful place to store the finest dishes and stemware, and provides the perfect (and ample) space for serving.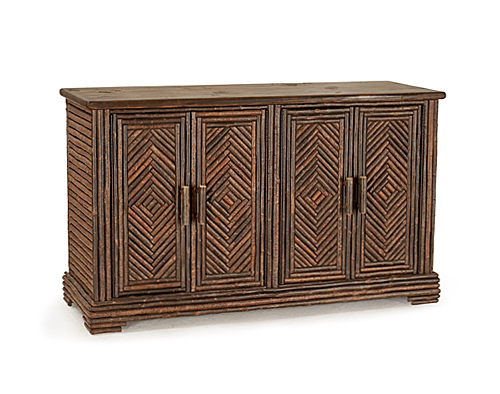 With its traditional appeal and superb craftsmanship, this buffet in a Natural finish has the look and feel of furnishings from a bygone era.

This charming two-door buffet shows off its pattern of branches in a Spruce finish and features a smooth, pine plank top – perfect for entertaining in a smaller space.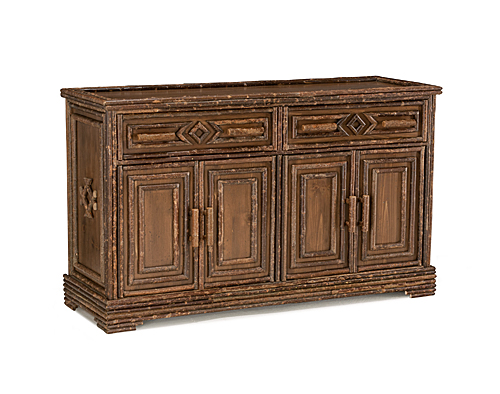 Four doors, and two drawers, and a finely detailed decorative pattern of poplar branches are the hallmarks of this lovely buffet in a Natural finish.