No self-respecting parent would admit to having a favorite child – and so it is with us at La Lune Collection. While we love all of our beautiful rustic bed "children" equally, there does seem to be a clear fan favorite in the collection – namely, Canopy Bed #4276-#4282.
An unquestionable masterpiece, the graceful, free-form lines of natural branches create the dramatic design feature of Canopy Bed #4278. Strikingly beautiful, it will most surely draw compliments from all who see or sleep in it.
Drawing on Canopy Bed #4280 in Taupe finish as this installation's centerpiece, Minneapolis-based interior designer Billy Beson has created a magnificent monochromatic ski resort bedroom in Beaver Creek, CO. Truly gorgeous!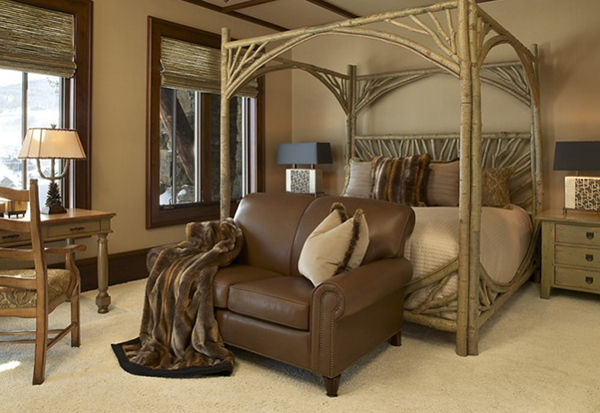 The talented interior designers at Design Associates and Locati Architects, both located in Bozeman, MT, are collaboratively responsible for this spectacular bedroom – featuring Canopy Bed #4280 in Sandstone finish – which overlooks a soaring mountain range. Clearly, this must be where the term "room with a view" received its inspiration!
The designers at Laurie Waterhouse Interiors in Jackson, WY are the creative forces behind this bedroom featuring Canopy Bed #4280 in Natural finish. The result of their vision? Rustic chic at its most luxurious.
If we had a favorite photo of the beautiful Canopy Bed #4278 it just might be this one, in Antique White finish, with La Lune's own Little Red Riding Hood. This particular Little Red happens to be none other than Cristina, the then-9 year old daughter of La Lune founders Mario and Cathy Costantini, photographed when she was in the 3rd grade. And the "big, bad wolf" was an actual pet wolf named Sheba, who lived down the street from the La Lune Collection factory.  (Read the related  blog article to get the full story behind this photo shoot.)