La Lune Collection features an extensive selection of rustic dining chairs, available in a diverse assortment of designs, sizes, finishes, and options. We are proud of all of our beautiful rustic dining chairs – however, if we admitted to any favorites, Side Chair #1400 and Arm Chair #1402 would be strong contenders for the honor.  And, it would appear that many interior designers around the country agree with us! We're delighted to share here some of our favorite installations – from a few of our wonderfully talented design clients – all featuring these distinctive rustic dining chairs as their design centerpiece.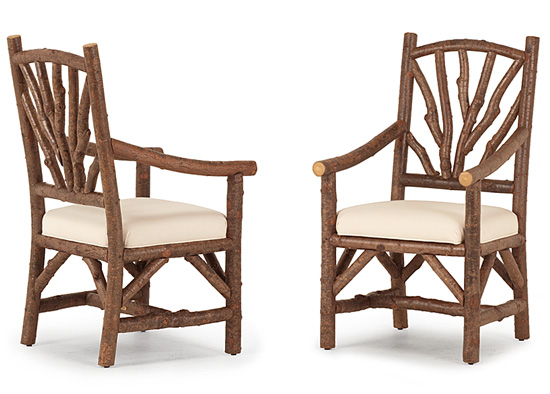 This gorgeous dining area – framed with expansive "jewel box" windows – is designed by Andrew Maier Interiors in Locust Valley, NY.  What could be more inviting than a sunny breakfast gathering, seated in these chairs and mapping out plans for the day?
The picture-perfect example of an outdoor rustic porch is brought to us by Kathryn Long of Ambiance Interiors, Asheville, NC. We can almost hear the crackle of the flames in the fireplace, that beckon us to pull up one of the chairs and bask in its warmth!
Designer Shazalynn of SCW Interiors in Alexandria, VA has created a room that appears to be made just for entertaining.  This dining room features La Lune Collection side chairs in a beautiful Antique White finish, and Shazalynn has chosen to anchor the dining table with comfy arm chairs upholstered in a playful fauna motif.  We can think of no better spot for  welcoming guests to Thanksgiving, Easter, birthday, or Christmas celebrations.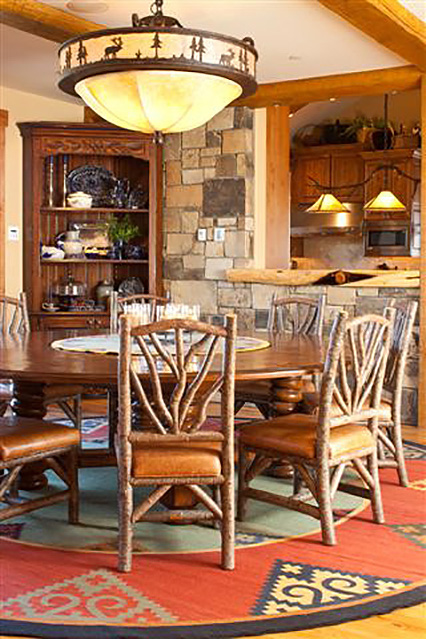 Laurie Waterhouse Interiors, in Jackson, WY  presents us with this cozy dining room, which we think is just perfect for rollicking family gatherings.  A warm, rust-hued woven rug adorned with ethnic patterns, and an impressive rustic light fixture overhead, partner with these chairs to create a welcoming rustic space.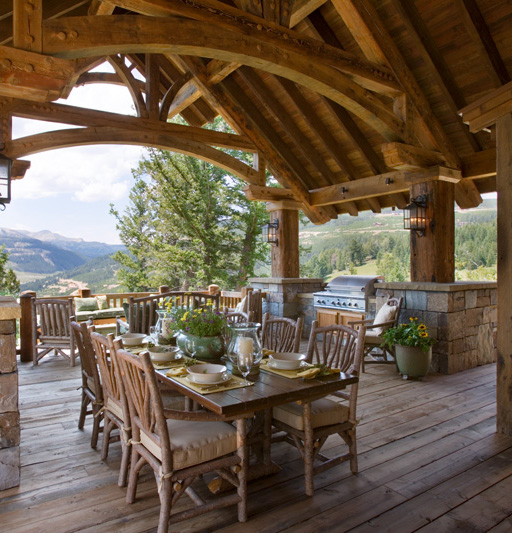 A spectacular skyline of soaring mountain ranges is the backdrop for this stunning outdoor room by Locati Architects, Bozeman, MT.  How fortunate are the lucky diners for whom this rustic table from La Lune Collection – with its La Lune side chairs – is so beautifully set!
These striking interior and exterior rooms are just a sampling of the inspired rustic living spaces created with charming dining chairs (and tables) from La Lune Collection –  check out the complete offering of La Lune Collection's rustic dining chairs for more inspiration!