It was iconic designer Bill Blass who coined the phrase "When in doubt – wear red."
At La Lune Collection, we're pretty sure Mr. Blass was on to something – without doubt red is a strong and confident color, and best of all, nearly every piece of La Lune Collection furniture looks categorically stunning in red.  It was also Bill Blass who said "Red is the ultimate cure for sadness" – and we think that sounds like reason enough to consider bringing one or more shades of "La Lune Red" into the home – take a look and see if you agree!
With its strong, sturdy, and classic lines, this Club Chair and Ottoman take center stage in a bold Navajo design fabric.  Equally at home in traditional, rustic, and eclectic settings, these pieces are carefully created by hand, using the same simple tools and techniques employed by furniture craftsman for several centuries.

This finely crafted Buffet – shown here with decorative trim in Redwood finish – provides a beautiful place to store the finest dishes and stemware. La Lune's expert craftsmen have tended to every detail in its construction, carefully cutting and applying by hand the branches that make up its distinctive geometric designs.

The striking "diamond back" motif is truly a stand-out design element on this Side Chair, a perfect dining chair – its seat and back are masterfully upholstered by our exceptional craftsmen, making it the perfect combination of style, strength, and comfort.

This Coffee Table, fashioned of "bundled" aspen branches, is featured here in Redwood finish – truly a masterpiece of design and craftsmanship, which accounts for it being a La Lune favorite. Our furniture artisans are proud to sustain the ancient tradition of hand-made rustic furniture with their unparalleled skill.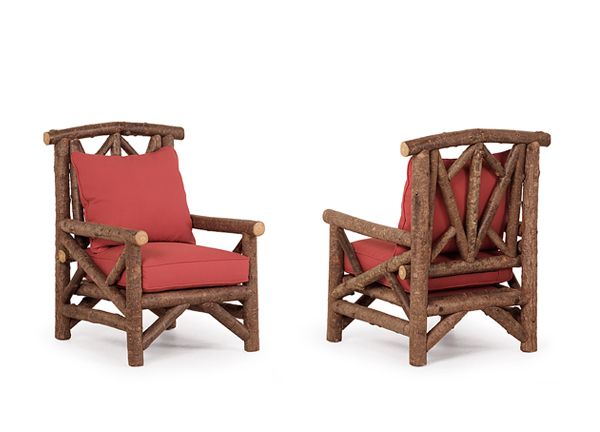 A handsome pattern of angled branches creates the outstanding design feature of this Club Chair. Meticulous construction, kiln drying, special joints and finishes, and attention to every detail ensure the enduring beauty and comfort of La Lune furniture – including this beautiful piece.