Storied basketball coach, Phil Jackson, once wrote "The strength of the team is each individual member. The strength of each member is the team." At La Lune Collection we believe these words capture the spirit of our own team. La Lune is known in the design industry for our high standards of design and production quality, as well as our unparalleled customer service, and we credit our excellent team for our reputation. We're proud and happy to introduce here our wonderful La Lune Collection team.
Meet Cathy and Mario, Co-founders & Principals
Cathy and Mario met in college, and shortly after graduation married and started their namesake  interior design firm in downtown Milwaukee over 35 years ago. Mario subsequently designed a few pieces of rustic furniture for a restaurant project, and the rest is La Lune Collection history!
An interesting fact about Mario: Born and raised in Argentina, Mario is a soccer enthusiast and has played and coached at all levels for over 40 years –  he played for Marquette University as a college student, and later coached teams from  toddlers to varsity high school players.
An interesting fact about Cathy: Cathy is an avid opera fan, and has served for many years on the Florentine Opera Company board of directors. (The Florentine Opera also maintains its opera center, administrative offices, and studio artist residences in La Lune Collection buildings.)
Meet Cindy, Sales Manager
Cindy came to La Lune 28 years ago and is our resident order "guru" – taking and processing orders, expertly handling customer service and status inquiries, scheduling shipments – really "shepherding" La Lune  orders from beginning to finish.
An interesting fact about Cindy: Cindy is a true dog lover – for the past several years she has moderated on online forum for dog owners dealing with pets whose lives have been affected by Cushing's disease.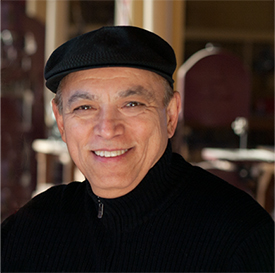 Meet Toty, Production Manager
Toty has been overseeing every detail of production – ensuring that La Lune orders are constructed perfectly and shipped on time – for over 26 years.
An interesting fact about Toty: A world class jazz guitarist, Toty is leader of the Latin jazz band, La Chazz, a group comprised of some of the finest Latin jazz musicians in Milwaukee.
 Meet Jen, Design Director
Jen is a genuine artist, and is behind most of the beautiful furniture pencil drawings that were the genesis of the first La Lune Collection catalog. She manages daily design-related responsibilities which include drawing – by hand – all custom order illustrations.
An interesting fact about Jen: Jen spent a portion of her childhood growing up in Nigeria, and continues to feel a solid connection to that part of the world.
Meet Chloe, Design Associate
Chloe is the newest member of the team, and comes to La Lune Collection straight from the darkrooms and classrooms of the Milwaukee Institute of Art and Design.  At La Lune Chloe is the official in-house photographer and supports all design-related work in the company.
An interesting fact about Chloe: Chloe recently spent a year studying and traveling in Ireland, and has developed a deep love of the country's beautiful landscape, culture, and people.
Meet our La Lune Craftsmen
We couldn't be more proud of our amazing craftsmen! Each piece of La Lune Collection furniture is carefully crafted by hand in our Wisconsin facility by some of the most skilled furniture artisans in the country, including carpenters, finishers, upholsterers, seamstresses, and cabinetmakers.