Here in La Lune Collection's beloved Wisconsin we are no strangers to the decorating magic of the season's first snowfall. City streets, farmers' fields, frozen lakes, and pine forests alike – after an evening of falling snowflakes everything awakes to a glistening white blanket, and the resulting landscape's beauty is breathtaking.
Excited by our own first snow, we share here some charming snow-inspired words, accompanied by a few of our favorite "La Lune Collection Winter Whites" – a sampling of selected pieces shown in some of our many fabulous white finishes.  We hope you enjoy!
"There is nothing in the world more beautiful than the forest clothed to its very hollows in snow.
It is the still ecstasy of nature, wherein every spray, every blade of grass,
Every spire of reed, every intricacy of twig, is clad with radiance."
~William Sharp
With its welcoming traditional appeal and superb craftsmanship, this Hutch has the look and feel of furnishings from a bygone era. Our craftsmen proudly sustain the ancient tradition of hand-made rustic furniture, using the same methods and materials that were used by the early artisans.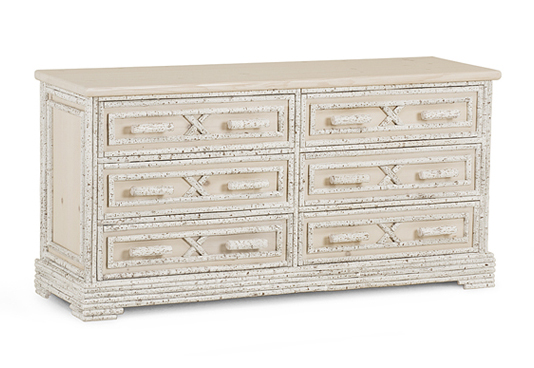 This finely crafted and extremely roomy Chest provides a beautiful place to store textiles, clothing, and other treasures. Our expert craftsmen have tended to every detail in its construction, carefully cutting and applying by hand the branches that make up its handsome design.
"I wonder if the snow loves the trees and fields, that it kisses them so gently?
And then it covers them up snug, you know, with a white quilt;
And perhaps it says, "Go to sleep, darlings, till the summer comes again."
~ Lewis Carroll
This Chair's design makes it a most versatile decorating piece, an appealing combination of sturdiness and rustic charm.
An unquestionable masterpiece, the graceful and freeform lines of natural branches are the unique design feature on this Bed's headboard and footboard. Strikingly beautiful, it will most surely will draw compliments from all who see it or sleep in it!
 "Oh! The snow, the beautiful snow, filling the sky and earth below,
Over the housetops, over the street, over the heads of the people you meet.
Dancing, flirting, skimming along."  
~ Thomas Watson

An octagonal Table makes conversation easy for everyone seated, and this one is a La Lune favorite! Its inspired rustic design is created by our master craftsmen, featuring a delicate, precise branch "apron", and a graceful, organic base of free-form branches.
A striking pattern of angled branches creates design interest on this handsome Daybed. Meticulous construction, kiln drying, special joints and finishes, and attention to every detail ensure its enduring beauty and comfort.
"Thank goodness for the first snow, it was a reminder–no matter how old you became and how much you'd seen, things could still be new if you were willing to believe they still mattered."
~ Candace Bushnell
 Elegant and stately, this Canopy Bed lends a sense of drama to any decorating style – equally at home in traditional, contemporary, and eclectic settings.
Classic lines, rustic styling, and superior craftsmanship combine to create the ultimate sleeping experience with this charming Bunk Bed – genuinely the perfect blend of beauty and comfort.