The question, "Who's coming to dinner?" will invariably present another question: "What size table – and how many chairs – do we need?"
While the beauty of your dining table and chairs is of utmost importance, you'll also want to ensure that your family and friends are comfortable when they sit down together to enjoy their meal. It's important that your table is not only large enough to accommodate the number of diners you intend to seat, but is also a size that will leave adequate space for chairs, and for walking around the table itself.
Where to begin? Below are a few simple guidelines to consider while making your choice:
Plan a minimum of 24 inches for each place setting – if you have the room, 30 inches is ideal and much more comfortable.
Be sure that the chairs arms are low enough to slide beneath, and not bump into, the table.
Provide at least 24 inches of space behind each chair when someone is sitting in it. This is the minimum space needed for people to pass by when serving or leaving the table.
Finally, we'd naturally recommend browsing La Lune Collection's comprehensive assortment of beautiful rustic dining tables in numerous styles, shapes, finishes, and sizes. Below are a few examples to get you started!
Seating for Four
Planning to entertain another couple for dinner? How about starting out with pre-dinner refreshments served at this distinctive cocktail table in a Natural finish – Table #3049 – surrounded by four Barstools #1298 with removable seat and back cushions.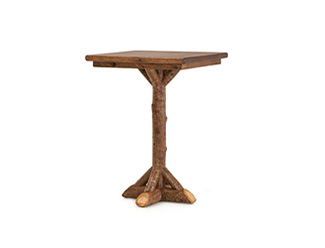 ---
Seating for Six:
A round table makes conversation easy for everyone seated, and Table #3093, shown here with an optional pine plank top, is a La Lune favorite! Its inspired rustic design features a delicate, precise branch "apron" and a gracefully organic base of free-form branches. Six Armchairs #1290 – with beautifully made removable seat and back cushions – complete this stylish dining arrangement.
---
Seating for Eight:
Perfect for a small dinner party, this Trestle Table #3123 – customized here with an oval pine top – is a friendly centerpiece for entertaining, featuring a base with a striking diamond design in a Pecan finish on peeled bark. Arm Chairs #1402 and Side Chairs #1400, demonstrating their graceful and organic lines of nature, are beautiful accompaniments to this table.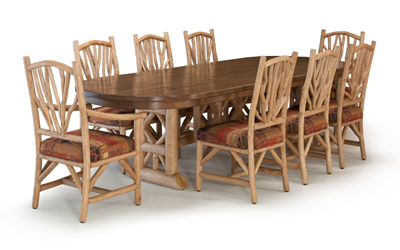 ---
Seating for Ten:
All ten players on the softball team are celebrating with a barbecue at your house! No problem – this magnificent Trestle Table #3123 was custom-crafted especially for outdoor use, featuring a cedar plank top to accommodate for moisture.   Arm Chairs #1206 & Side Chairs #1204 ensure that there is comfortable – and charming – seating for all.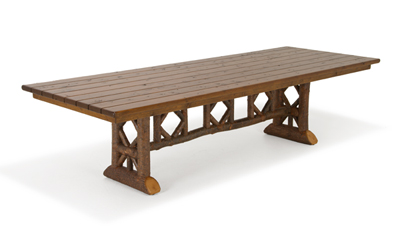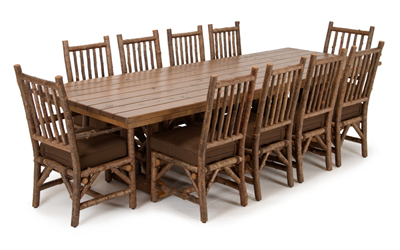 ---
Seating for Twelve:
Assembling the entire family for holiday gatherings requires a generous table indeed. Custom Trestle Table #3494,  built with bold, exceptional craftsmanship, is perfect for lively get-togethers. Arm Chairs #1156 and Side Chairs #1154, done here in an Ebony finish, demonstrate rustic elegance at its absolute finest!