"As You Like It" is of course the beloved comedy penned by William Shakespeare in 1600, but it could also very easily be a tag line for La Lune Collection's line of fine rustic furniture.  This is because the entire collection is completely bench-made by expert artisans in our small, pristine Wisconsin factory – and, all rustic furniture in the line is entirely customizable, just 'as you like it'!
La Lune Collection is available in custom dimensions, designs, options, and finishes – and even furniture to the customer's own design. Interior designers "in the know" across the country have recognized this for decades and appreciate La Lune Collection's unsurpassed skill and versatility in the area of custom work – this, in part, accounts for the fact that fully one-half of La Lune Collection's production is custom fabrication.
So, just how is a custom project handled, from conception to finish? Every custom project – whether a simple variation of an existing La Lune product, or a completely new item that either a La Lune artisan or the customer (or both) designs – starts with an idea and a conversation. After that first connection, the next step is a drawing. La Lune Collection generally creates several drawings, offering various options from which to choose. All drawings, as with all La Lune Collection furniture, are hand-done – in fact, La Lune artist Jen personally creates all custom project drawings! Finally, after a drawing is customer-approved, that very same drawing is  the "map" used by a La Lune craftsman to create the custom piece.
Let's take a look at a few finished examples of the beautiful Rustic Buffet #2118 to better understand the extent of La Lune Collection's custom capabilities:
This first example shows Buffet #2118 in Natural finish, a rich, warm hue, on both its pine background and its decorative branch trim.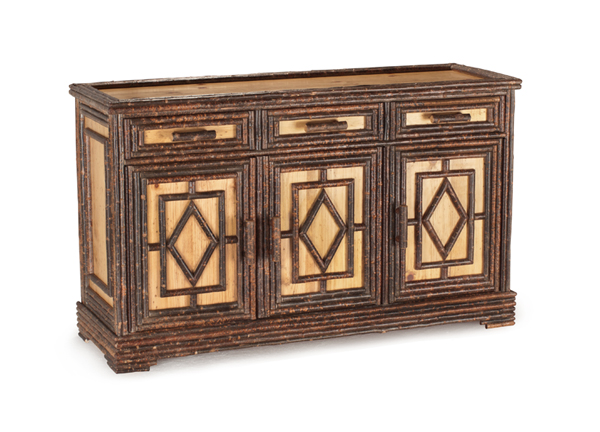 For this buffet, the client desired a lighter custom finish on its pine background, but wished to maintain the trim in standard Natural finish – a beautiful contrast was the delightful result!
Here the buffet displays Natural finish on its pine background, while Redwood finish was chosen for the branch trim, achieving an equally dramatic and elegant effect.
White Birch makes up the custom background on this buffet – combined with trim in Natural finish the result is one of pure and simple rustic beauty.
A unique Cane background is distinctively set off by its Natural trim, which lends this buffet a truly distinctive textural effect.
Feel ready to explore some of your own custom rustic furniture design ideas? Contact us – we'd love to get the conversation started!