It's certainly no secret that we're big fans of outdoor entertaining – and in particular alfresco dining – here at La Lune Collection. Whether it's dinner on the deck with friends, or cool refreshments in a screened porch nook with family members, we believe in making the most of the warm weather while it lasts..
What could be better than spending a warm summer afternoon with a pitcher of fresh lemonade, poring over a good book while seated in this charming screened porch by Andrew Maier Interiors?
Discover: Stools #1142 & Octagonal Table w/Willow Top #3330, both in Antique White Finish (Photography courtesy of Andrew Maier Interior Design, Locust Valley, NY)
With views of a soaring Colorado mountain range in the background, this covered deck by Locati Architects serves as a spectacular backdrop for a memorable dinner with good friends.
Discover: Chairs #1400 & Trestle Table w/Cedar Top #3121, both in Natural Finish (Photography courtesy of Locati Architects, Bozeman, MT)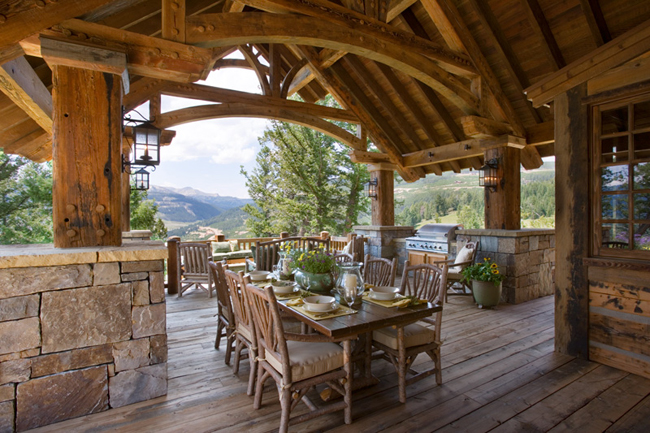 Tuck this sweet table and chairs in just the right space of the backyard patio – and presto – the perfect breakfast nook for morning coffee and newspaper! We can almost hear the birds chirping, can't you?
Discover: Side Chairs #1204 & Custom Outdoor Table, both in Kahlua Finish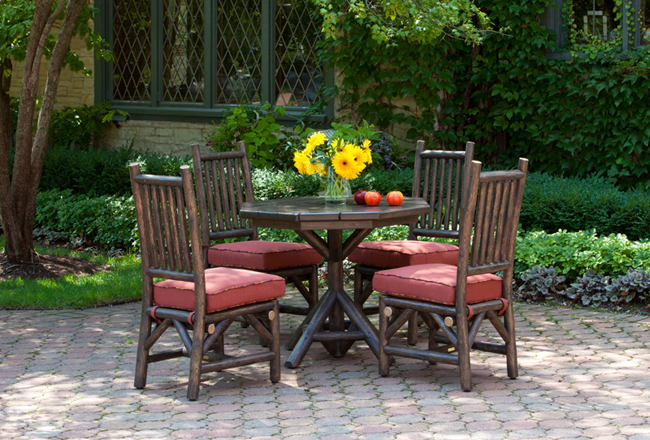 The three "stars of the show" in our alfresco dining rooms are their beautiful, unique, and comfortable seating selections, shown below. Now, what are we waiting for? Let's get outdoors and enjoy some warm weather!
(Discover: Side chair #1204, Stool #1142, Side Chair #1400)