During one special weekend in September, over 100 buildings in Milwaukee allow their doors to be thrown open, much to the delight of the curious guests who take a peek at what's going on inside. The weekend event, dubbed "DOORS OPEN", was inaugurated by Historic Milwaukee, Inc. in 2011, and La Lune Collection has enthusiastically participated in this architectural "show and tell" every year since then.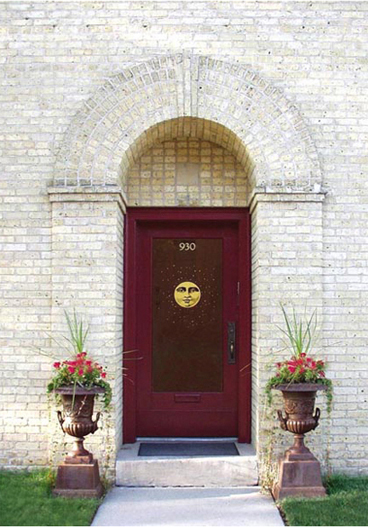 This year on Saturday, September 19th, La Lune again greeted hundreds of visitors at its factory showroom's front door, where company co-founder, Mario Costantini, led them on an extensive tour of the factory grounds, offices, and workshop facilities.
Why take the time to do this every year? There's one simple reason – we are unreservedly proud of the beautiful buildings that La Lune Collection calls home. The complex's original buildings were built over a century ago of the famed golden-colored 'Cream City' bricks – indigenous to the Milwaukee region – by local contractors H. Schmitt & Son, a company renowned for constructing exquisite churches and cathedrals throughout the Milwaukee area.
Mario and Cathy Costantini, founders of La Lune Collection, purchased the buildings in 1986 – they lovingly renovated the neglected buildings to their original glory, constructing several additional buildings on the property in the ensuing years. In 2009, La Lune Collection gladly welcomed the Florentine Opera Company to one of their warehouse buildings, creating for them a rehearsal space to house the company's "Opera Center".
Weren't able to join La Lune Collection for this year's "Doors Open"? No problem – we've assembled below a pictorial factory tour of some of the highlights to be seen at 930 E. Burleigh Street, Milwaukee, WI .
A bird's eye view provides a good sense of the La Lune Collection "campus" – comprised of offices, a factory showroom, workshop buildings, and warehouses – which occupies a one-half city block of the trendy, artist-friendly, residential  Milwaukee neighborhood known as 'Riverwest'.
Colorful awnings are a handsome contrast against the Cream City brick facade of La Lune's offices and factory showroom buildings, which were originally constructed over 100 years ago. All visitors to the company will pass through the arched entry of this building, located on the corner of tree-lined, residential streets.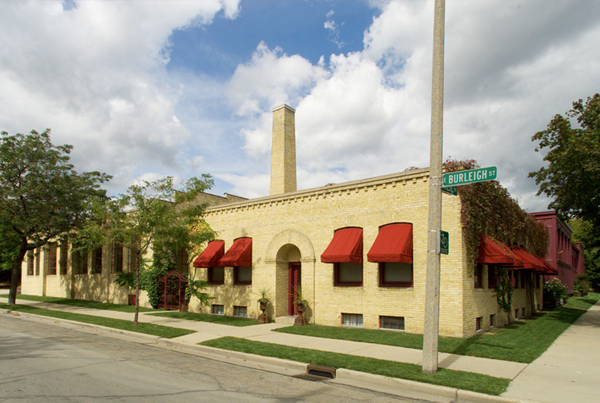 Just a few steps inside the building, visitors are met with the charming La Lune Collection factory showroom. Here one is able to view a changing display of furniture  from the collection, including chairs, tables, beds, chests, cabinets, armoires, and more.  (Company president, Mario Costantini, is always happy to show visitors around the showroom and factory – just contact us to schedule a visit!)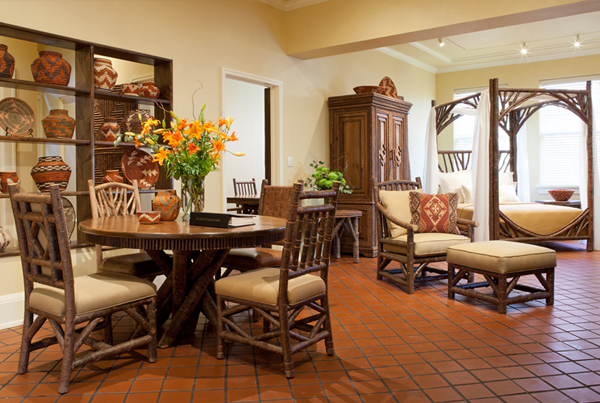 After visiting the factory showroom, a step outdoors and a short stroll through a lovely paved courtyard will bring visitors to La Lune Collection's pristine workshops. In these beautiful sun-filled rooms – which are filled with century-old machinery and tools – skilled craftsmen, carpenters, upholsterers, and seamstresses create the wonderful works-of-art that are La Lune Collection rustic furniture.
No trip to La Lune Collection's workshop is complete without a greeting from Lucy and Rocky – La Lune's trusty mascots – pictured here with Mario amid the stacks of poplar, willow, and cedar logs that await their transformation into beautiful furniture.
La Lune Collection is also proud to host in one of its buildings the Florentine Opera Center, home to Milwaukee's Grammy award-winning professional opera company. This delightfully flowered courtyard – with its decorative iron gate – serves as a welcoming entrance for all visitors to the Florentine Opera Company.
At the end of the day, when night has fallen and all of La Lune's visitors and employees have returned home, the courtyard serenely awaits their return the next morning.  Good Night, from La Lune Collection!